Create a loyal WhatsApp user base from scratch
Meet new customers, sell products and run marketing campaigns.
End-to-end WhatsApp solution for businesses
trusted by 100+ brands.
Official WhatsApp Business APIs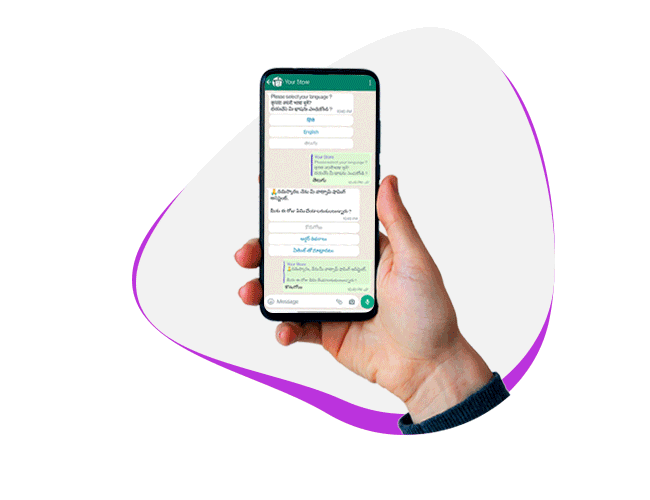 Just plug & go. We'll integrate your business in a few minutes
We are literally all you need to scale
your WhatsApp business
Connect your whole business to WhatsApp, get verified with green tick and boost your sales using marketing tools
Free WhatsApp account set up!
Our business solutions are live for...
We've connected 50,00,000+ customers directly with their

favorite

D2C brands
Set up in minutes.
Reach up to a million users.
Hyper charge your growth.
No hacky words. Just pure growth for your business from x to 10x.
Power up your business in 4 simple steps
Because everyone you know is on WhatsApp
Fully integrated suite of business on WhatsApp
with personalised workflows
by AI - Agent collaboration
with automated customer queries
via dashboard and analytics
Our basic plan costs the same as your monthly Netflix subscription
I'm a paragraph. Click here to add your own text and edit me. It's easy.
Includes
​
Official WhatsApp account with green tick
​
Automated WhatsApp notifications
​
Single agent chat support
​
Complete store integration- Shopify, WooCommerce etc.
​
Scheduled campaigns
Basic plan plus

WhatsApp Commerce with store integration
​
FAQ bot with product intelligence
​
Retargeting workflows :
- Abandoned cart
- Feedback
- COD confirmation
​
Analytics and performance tracking
Advanced plan plus
​
Vernacular support for Indian languages
​
Custom store integration
​
Personalized onboarding and support
​
Website chat widget
​
Omni-platform integration
Professional plan plus
​
Proprietary acquisition tools with advanced targeting
​
Retargeting workflows :
- Reorder
- Cross sell & up sell
​
Stickers, gifs and emoji
Referral and loyalty program
​
FB ad integration
Instagram integration*
Arjun Vaidya,
Founder of Dr. Vaidya's
"As the D2C ecosystem evolves, enablers become very important. Really excited to see what the BusinessOnBot team is building to provide a seamless, hassle free customer experience and I'm proud to support them on this journey!"
Abhijeet Kaji, Founder of KNYA
"BusinessOnBot team are building an effective WhatsApp tool and are at the cusp of D2C 2.0 in India. Their product has helped KNYA Med in WhatsApp commerce, customer service and marketing.

They are open to feedback and are fast iterating their product to build the best tool out there."
Ameya Ambulkar,
Founder of Fabbox
"We have been using the WhatsApp services by BusinessOnBot over 6 months now. And must say it was a great decision. WhatsApp as a channel has really helped us improve our customer engagement and also has lead to increase in sales."
Scaled 1 million WhatsApp users in 6 months for a leading brand.
​
Passionate about chai & morning runs.
​
An IITM alumnus.
Worked in SaaS helping young D2C business grow through the roof.
​
Dog lover, reader & a true Marvel fan.
An IITM alumnus.
Powered vernacular voice based AI initiatives for one of India's largest bank.
​
Books and movies anytime
​
An IITM alumnus.
Prof. Mitesh Khapra is founder at AI4Bharat.
​

Pioneer of NLP in Indian languages.
​
IITM Professor.(advisor)
We will never leave
you on read.
Simply put, we're always online. We always reply
almost immediately. We don't forward good morning
messages. We don't even broadcast our happy-new
year messages.
​
​
Let's be WhatsApp friends?
Allow us to show you all the amazing things your
business can do on WhatsApp.